"Life After Death"
Jerry O'Connell and company slide into a new season on the Sci-Fi Channel.
By J.J. O'Neil. &copy 1998 Sci-Fi Universe Magazine. Reprinted without permission. June 1998 Issue.
---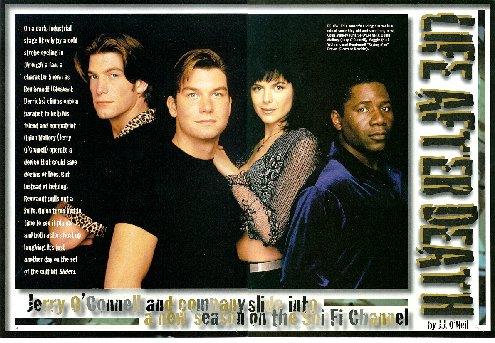 (Click on image for the larger lifesize version 1190x825x16Million 912K in a new window. Close it to return here.)


On a dark, industrial stage lit only by a cold strobe cycling in through a fan, a character known as Rembrandt (Cleavant Derricks) climbs onto a parapet to help his friend and compatriot Quinn Mallory (Jerry O'Connell) operate a device that could save dozens of lives. But instead of helping, Rembrandt pulls out a knife. Quinn turns just in time to see it plunge... and both actors bust up laughing. It's just another day on the set of the cult hit Sliders.
SINCE ITS 1995 DEBUT ON THE FOX network, this unique adventure series has charted a path full of as many twists and turns as one of its episodes. The core story is about a group of scientists who "slide" from one alternate world to another by way of an artificially created tunnel called a wormhole.
Despite naysayers, musical time slots, cancellations and network-jumping, Sliders the series slides into its fourth season on the Sci-Fi Channel, which announced last summer the acquisition of the popular series' three previous seasons along with an order for 22 additional episodes. "The history of the show is that it gets canceled every season and then it gets picked up somehow or some way," says Jerry O'Connell, who in addition to starring as the Sliders' brave and brilliant leader produces and directs the show. "Since we don't have to cater to as broad an audience as a major national network requires, we're getting pretty kooky this season. We have a lot of good, quality science fiction stories, a lot like early Twilight Zone stuff. The great thing about science fiction is that you can make a politically aware show without actually commenting on specific political problems. Rod Serling was always commenting on the Red Scare without actually mentioning anything about communism or anti-Red movements. We're a much smarter show this year. I think it has a lot to do with our new writers. We've got [co-executive producer] Bill Dial, [executive story editor] Chris Black,and [writer/producerl Mark Zicree, all under the watchful eye of our boss, [executive producer] David Peckinpah; we have a really great team."
O'Connell attributes the show's thriving fourth life to Sliders' dedicated legion of fans: 'It's nice to have a strong fan base that keeps bringing the show back. Last season we were on Fox and they would cancel us and pick us up. So, this year we got picked up by Sci-Fi. It is a sci-fi show and when you're on a network that caters specifically to a sci fi audience, you can get a little wackier and crazier. So, I'm having a lot more fun this season. [When] I got on this show I had just graduated college, it was really all about, 'hey, I've got a TV show and it was pretty much about picking up chicks. Now its sort of a real job. I'm 23 now. I've got to hang up the party hat sometime."
This season, O'Connell represents a triple threat - directing, producing, and starring in the show he likens to "boot camp of the entertainment industry." (O'Connell relishes the challenge, comparing it to "having a grownup job. I can't goof around as much any more. My social life is hurting. I'm not going out as much as I used to, but at the same time it's nice. It's a lot more work than I ever expected. My experience with producers has been pretty much expense accounts and cell phones and when you try and reach 'em they're usually at the gym, so I thought it was going to be much easier. But I'm up to the challenge. You're here every day at six. You're here for every shot and you're faced with every obstacle a film program faces you with. So, it's been a great experience. I've learned a lot and it's fun. I went to NYU film school, so I've been hoping for this for a while. Four seasons have gone by, castmembers have changed. Our producers have changed. Our channels have changed. It's nice that since I've been here since the inception they've thrown me a bone."
The network is not the only thing about the show that has changed. While O'Connell's castmates Cleavant Derricks and Kari Wuhrer, as Rembrandt and Maggie, will be returning to interdimensional adventures this season, Sabrina and John Rhys-Davies will not. "When we lost the professor, Rhys-Davies, who was the mature voice in the show, I sort of became that voice," O'Connell says. "And those are pretty big shoes to fill. I think he's a size 14. But it's good. We got Kari Wuhrer back, which is great. She's so great to work with. Cleavant Derricks, Tony winner 1984, very good actor and funny guy, and the best being my brother, Charlie."